To The

A Wikia site that is an online resource about the Anime, Both Games, and the Two Novels that anyone is free to edit, limitedly.
This page will become more populated as more information is revealed about the show.
Warning: There will be spoilers on most every page you will visit.
You Have Been Warned.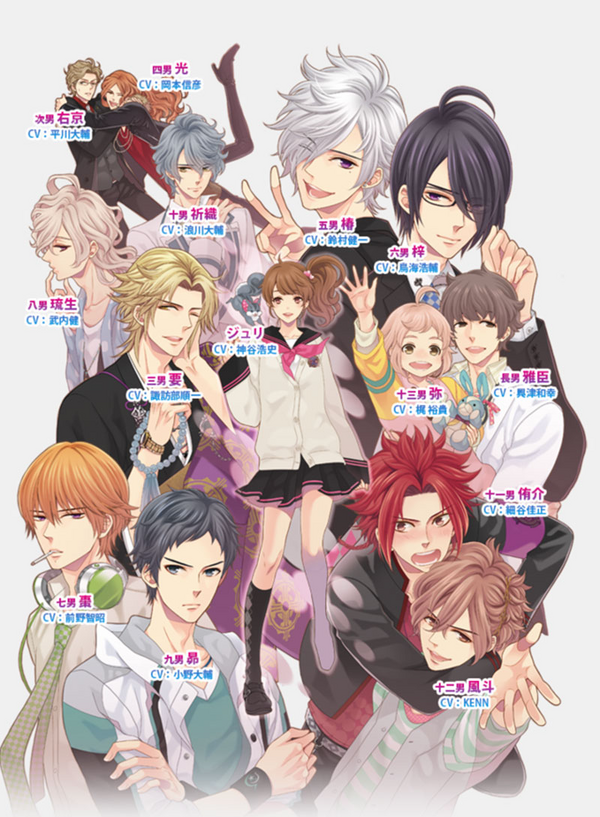 Brothers Conflict (ブラザーズ コンフリクト?), most commonly known as BroCon, is a Japanese Novel series created by Atsuko Kanase, written by Takeshi Mizuno and illustrated by Ukyo, having seven volumes at hand. Due to popularity demand, another set of volumes has been released, in a total of 5 for the second season. BroCon has been adapted into two PlayStation Portable Game, a yonkoma manga series, and an anime television series by Brain's Base.
Hinata Ema is the daughter of the famous adventurer Hinata Rintarou. One day, Ema finds out that her dad is going to remarry with a successful apparel maker named Asahina Miwa. Rather than bothering them, she decides to move in to the Sunrise Residence complex that is owned by Miwa. From there, she discovers that she has thirteen stepbrothers. As she gets to know all of them, will one of her stepbrothers fall in love with Ema?




What OVA you think is the best?
Do you think there will be a season two?
What is the better game among the two?

Create blog post
So about the games...are there already english translations or do I have to wait for it?

Read more >

I am finding it hard to work out how to use Wikia $_$

So if anyone is able to help me, then that would be cool :D 




TallyCrow (talk) 01:19, February 3, 2016 (UTC)TallyCrowTallyCrow (talk) 01:19, February 3, 2016 (UTC)

Read more >
See more >

Loading RSS data...
Affiliates
Want to become an affiliate of us? Then contact us.
Ad blocker interference detected!
Wikia is a free-to-use site that makes money from advertising. We have a modified experience for viewers using ad blockers

Wikia is not accessible if you've made further modifications. Remove the custom ad blocker rule(s) and the page will load as expected.