Daisuke Hirakawa (平川 大輔, born June 4 1973 in Niigata Prefecture) is a Japanese voice actor. He is sometimes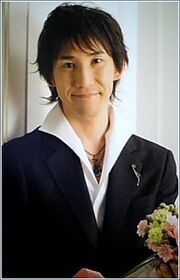 mistaken for fellow voice actor Daisuke Namikawa, as their names only differ by one character when written in kanji. He is the official Japanese voice actor for Orlando Bloom. For some roles, he is also known as Hirai Tatsuya and Masumi Hirai.
He voices Asahina Ukyo in the Brothers Conflict series, as well performed the anime's ending theme "14 to 1".
Ad blocker interference detected!
Wikia is a free-to-use site that makes money from advertising. We have a modified experience for viewers using ad blockers

Wikia is not accessible if you've made further modifications. Remove the custom ad blocker rule(s) and the page will load as expected.