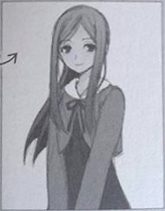 Shiraishi Fuyuka (白石 冬花) was the girlfriend of Asahina Iori.
Personality
Edit
One Winter day Fuyuka was waiting in front of Iori's school gate. The roads were iced-over and a driver lost control of their car. Iori was running toward Fuyuka, who was smiling and waving at him, when the car hit her head on. She died instantly.
Fuyuka was only fifteen-years-old when she died.